Ice Fishing for Lake Trout in Lake Superior [How To]
It's not every year that Lake Superior Freezes over. So when it does, you should take advantage of it!
A few years ago Duluth had an intensely cold winter which froze nearly all of Lake Superior allowing anglers the opportunity to travel miles onto the lake in search of monster lakers. Thanks to a polar vortex earlier this year we will have another opportunity allowing many anglers to get out onto the ice in search for some truly special fish.
What Equipment You Will Need
To get started fishing for lake trout you will need a few things that are different than your typical walleye or panfish setups.
Rod
Although you could land a smaller lake trout on a walleye rod, it is work getting a heavy action rod at least 32" long. There is a potential at catching lakers weighing upwards of 20 or even 30 pounds and you won't want to loose a trophy because you came under-gunned. These rods can be picked up for a very reasonable price at many different sporting good stores.
Reel
Your typical 200 or 300 size spinning reels that you use for walleye and bass are ideal. Just make sure that it has a strong and smooth drag!
Line
Spool up your reel with at least 100 yards of line of 10-20lb braid. Lake trout are typically caught in deep water and can easily pull 100 feet of line on their long powerful runs. Braid is important in order to set the hook in deep water as well as keep your line from bowing in in the current.
I prefer to tie on 10-20ft of 10-20lb flourocarbon. Lake Superior has extremely clear water so using a strong nearly invisible leader is important. You can connect your leader to your braid using a variety of fishing knots, like the double uni knot, or my personal favorite braid to flouro connection the FG knot.
Lures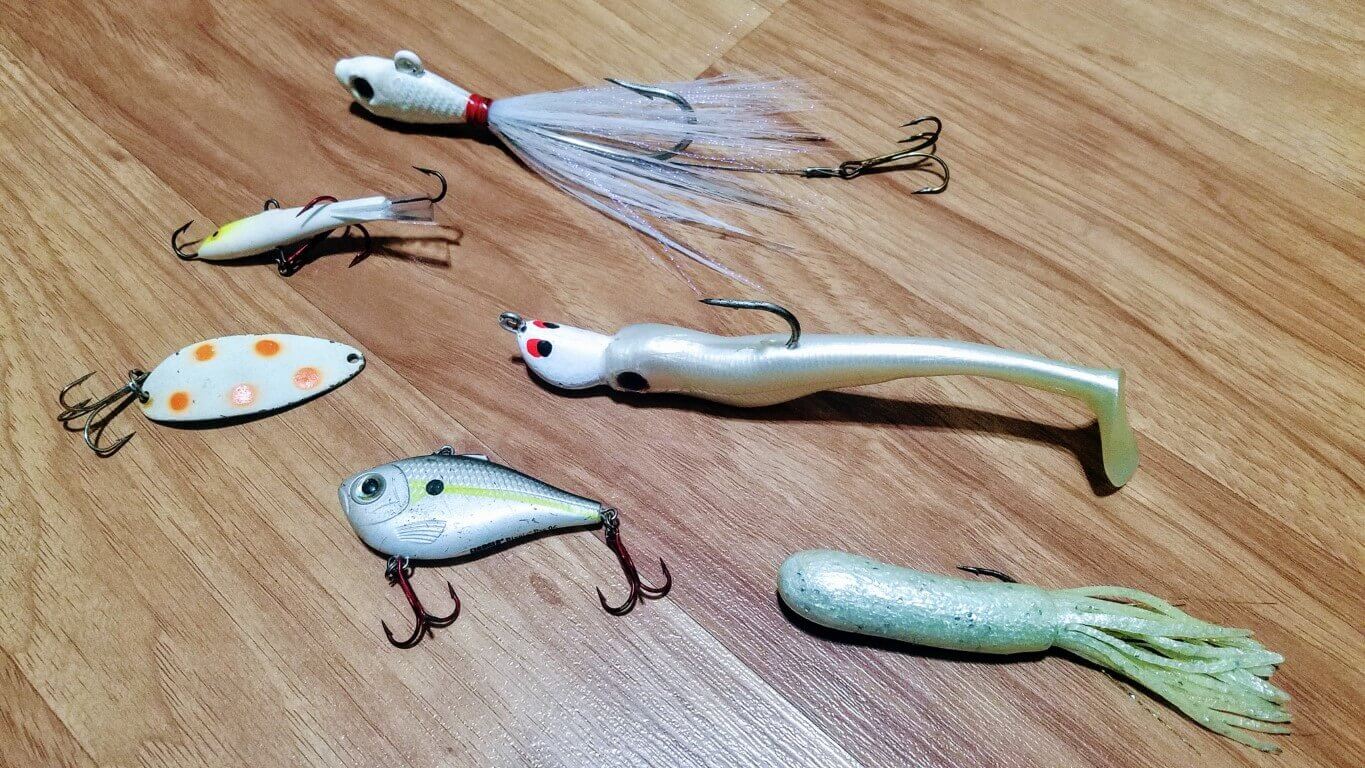 See a pattern? Smelt is the number one food source for lake trout That means white lures are your best bet. Having some orange, chartreuse, or pink can also be beneficial during certain conditions.
Leave your finesse at home, because when it comes to lake trout they can be extremely aggressive and will swim the entire depth of water your are fishing to attach your bait. The basics include loud, smelly, and white. You can get bites off of jigging raps, rattling traps, spoons, tube jigs, swim baits, bucktails, and other similar jigs. Half ounce jigs are about as light as you'll want to fish and during some conditions fishing lures up to 2 ounces may be ideal.
Sometimes tipping your hook with a piece of smelt can be extremely productive.
Check out this video of lake trout fishing I took from a few years ago.
Flasher
Having a good flasher is pretty much a necessity when ice fishing for lake trout. It is also the most fun way to fish for them. You can use any basic Marcum, Vexilar, or Hummingbird. Ideally having a graph with a screen that shows history will be the most productive allowing you to track these fish as they chase you up the water column. Some of the most popular options include the Humminbird Ice Helix 5, or Marcum's LX-6.
How to Fish For Them
Lake Trout are typically found in deep water from 60 to 200 feet of water or more. Typically when fishing for them you will want to focus on depths of 80 to 160 feet.
Two of the best tactics to catch lakers are pounding bottom, and playing keep away. Sometimes just lifting your jig and dropping it against the lake bottom will kick up enough sediment to call in a laker. You won't always mark fish when they come in off the bottom, but you'll notice them when they nearly rip the rod our of your hand!
Playing keep away is the most common way to catch lake trout. It is not unheard of to have a fish shoot off the bottom and chase your lure 50, 60, 70 feet or more. One of the hardest habits to break is not finessing them. They will become uninterested if you try and intise them to bite like you would a walleye or panfish. If you mark a fish, then start reeling! Typically the marks that show up mid column are more tuned up. Burn past them and watch them close the distance. If they hit, set the hook hard and hold on!
Where to Go
You can fish for lake trout anywhere that you can get to the right depths. Starting at 21st Ave E in downtown Duluth there are a few great spots to get out on the ice and into deep water. Follow scenic highway north and you will find multiple locations that you can park and get to the ice.
Safety First
Be careful out there, Even if there is 12" of ice in one area there can be cracks and ice heaves a few feet wide with skim ice. Bring a spud bar, rope, ice picks, and a buddy. Keep an eye on the wind as well. A strong wind from the west can push the ice out into the middle of the lake. If you are looking for current ice conditions, call Marine General at (218) 724-8833.
A Mememorable fish
The first lake trout I ever caught was the fish pictured above. Using a 3.5" white tube jig in 75 feet of water. I let the jig free fall until it hit bottom then bounce it against the ground a few times and lifted up a few it a few feet off the bottom. After a few repetitions a huge mark showed up on my Marcum. I didn't even have time to set the hook. My rod was bend all the was over and my reel was screaming. It took five minutes until I finally saw him. It is amazing seeing these fish fight through such clear ice and water. You can usually see 30 feet down through the clear Lake Superior water and the ice is often like glass. Once it got towards the hole it peeled off again going all the way back to the bottom of the lake. The entire fight too over 10 minutes. He ended up weighing over 15 pounds and 3 feet long! To this day it is one of my favorite fishing memories.
The ice conditions are still good out of Duluth with ice ranging from 8-24 inches! There are still plenty of active fish around.
JS-Outdoors is a participant in the Amazon Services LLC Associates Program, an affiliate advertising program designed to provide a means for sites to earn advertising fees by advertising and linking to Amazon.com.