Brule River Steelhead
The Steelhead season in Wisconsin has been open for a few weeks now, and the Brule River is one of the main destinations for fisherman looking to catch a hard fighting steelhead. Since the north shore tributaries of Lake Superior are still frozen solid we are lucky to have another great fishery nearby.
Having a cold spring means that most of the snow and ice is still frozen and the river has been running low and clear. Running around 140 to 160 cfs the fish are not spending much time in the riffles, but are often more concentrated in the deeper pools in slow water.
Match The Hatch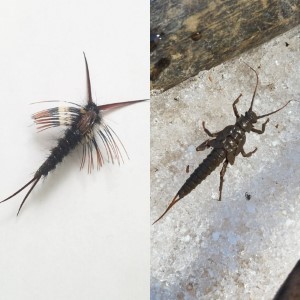 I typically run a traditional double fly nymphing method. Most often with a size 6-10 stonefly as the point fly and change between smaller jig nymphs in size 10-14 and egg patterns for a dropper fly. So far this spring nearly all of my fish have come up past the smaller dropper and hit the larger stonefly. Sometimes running a single large stonefly can be just as productive as having a dropper getting tangled and snagged.
(Quick Change) Leader Setup
Below is the leader setup I typically use for nymphing. You can also exchange the main nymphing leader with a standard 6ft tapered leader. I like to tie a couple double fly rigs in order to change flies quickly or if you happen to snag and lose both flies you only can quickly loop on a new double fly rig on without having to tie another 4 knots in the cold. Just loop to loop the main leader to the new set of flies and you are back to fishing. Just add your favorite strike indicator to the Main nymphing Leader and add split shot to the exchangeable leader as needed.
Main Nymphing Leader
Exchangeable Leader
Fly Tying Tutorials
There are many different patterns that work well on the Brule river, but these are a few of my favorites. Tie some up and let me know how they worked!
Stonefly
Frenchie